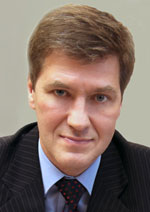 Nikiforov
Vladimir O.
D.Sc., Prof.
INFORMATION SYSTEMS INTEGRATION ON THE BASE OF LINKED DATA TECHNOLOGY
I. A. Semerhanov, D. I. Mouromtsev
Read the full article

';
Abstract
The article deals with the method of computer systems integration using traditional relational data warehouse, based on technology of linked data. The issue of interoperability of these systems and the problems of their security are touched upon. For implementation of semantic interoperability it is proposed to use semantic technologies, in particular, RDF and RDF Schema data models, ontology description language OWL, query language SPARQL and a common approach for open linked data. R2RMapper software tool developed by the authors is considered intended for retrieval of information, stored in the relational database, into the semantic formats. The algorithm is represented which makes it possible to convert such information into a single information field accessible to all integrable systems.
Keywords:
relational database integration, interoperability, RDF, OWL, RDFS, linked data
This work is licensed under a
Creative Commons Attribution-NonCommercial 4.0 International License