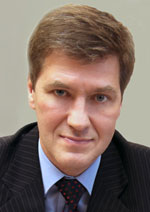 Nikiforov
Vladimir O.
D.Sc., Prof.
THE EFFECT OF FULLERENE C60 ON THE MECHANICAL BEHAVIOR OF EPOXY RESIN
D. V. Pikhurov, V. V. Zuev
Read the full article

';
Abstract
Fullerene C60 / epoxy polymers nanocomposites with different C60 loading (0.01-0.12 wt.%) have been prepared. Mechanical testing shows that mechanical and toughening properties of composites are greatly improved. The addition of fullerene C60 increased the modulus of elasticity and (up to 20%) and shock resistance nearly three times, but the glass transition temperature was unaffected. The measured shock resistance was also increased, from 38 to 115 kJ/m2 with the addition of 0.12wt.% of fullerene C60. The toughening mechanism has been discussed. With the dielectric spectroscopy it is shown that the destruction mechanism changes are caused by the growth of intermolecular interactions of nanoparticle - matrix and, as a result, retardation of the molecular chains mobility in the polymer matrix.
Keywords:
epoxy resins, fullerene C60, mechanical properties, shock resistance, dielectric properties
This work is licensed under a
Creative Commons Attribution-NonCommercial 4.0 International License