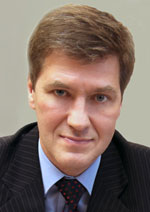 Nikiforov
Vladimir O.
D.Sc., Prof.
THE INFLUENCE OF COMPLEX FORMATION EFFECT BETWEEN POLYSILANE AND FULLERENE C60 ON THE ABSORBANCE SPECTRA AND OPTICAL LIMITING
V. V. Zuev, S. Bronnikov, S. Kostromin, S. Serov, S. Likhomanova, M. Borkovsky, N. Kamanina
Read the full article

';
Abstract
The concentration dependence of absorbance of polymethylphenylsilane (PMPS) /fullerene C60 solution has been studied. It is shown that at fullerene C60 doping more than 0.8wt.%, the absorbance shows the bathochromic shift, proving PMPS and fullerene C60 complex formation. This complex can be used as optical limiting medium in visible range.
Keywords:
fullerene C60, polymethylphenylsilane, absorbance spectra, optical limiting
This work is licensed under a
Creative Commons Attribution-NonCommercial 4.0 International License