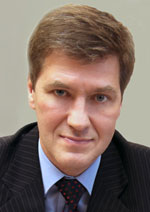 Nikiforov
Vladimir O.
D.Sc., Prof.
DESIGN PRINCIPLES OF A COMBINED NETWORK TOPOLOGY FOR ADVANCED ON-BOARD COMPUTING SYSTEM
E. V. Kniga, I. O. Zharinov
Read the full article

';
Abstract
The paper deals with principles of network organization for on-board digital computing system. The most common network topology today in practice, "duplex star" and "common bus", do not meet the basic requirements of a network organization, presented for computing systems for advanced aircraft in accordance with the concept of integrated modular avionics. A new technical decision for building a fault-tolerant computing system based on the use of mixed topology, which combines elements of two well-known topologies – "fully connected net" and "duplex star", is offered in the paper. This solution can improve the performance quality of computing system. The paper focuses on the reliability of a computing on-board system, built on the principle of mixed topology with different methods of tasks assignment to available computing resources. The result of the practical implementation of the proposed topology of the on-board digital computing system is its structure, introduced in a real practical development of the aviation industry.
Keywords:
network technologies, integrated modular avionics, computing systems
This work is licensed under a
Creative Commons Attribution-NonCommercial 4.0 International License