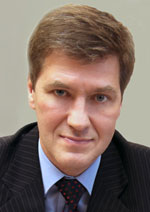 Nikiforov
Vladimir O.
D.Sc., Prof.
PRINCIPLES OF FUNCTIONAL ORGANIZATION FOR GROUP OF FIELD GEOPHYSICAL DEVICES OF THE NEW GENERATION
V. M. Denisov, A. . Radilov
Read the full article

';
Abstract
The urgency of the development for the group of field geophysical devices of new generation is justified. Generic functional requirements for these devices from the industry are summarized. A unified platform for their creation is described. The advantages of its application are shown. The development experience of the field radiometer as the first field instrument created on the principles of a single instrument platform is described.
Keywords:
geophysical instruments, instrument platform, field radiometer.
This work is licensed under a
Creative Commons Attribution-NonCommercial 4.0 International License