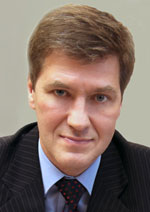 Nikiforov
Vladimir O.
D.Sc., Prof.
AGENTS INTERACTION IN INFORMATION SYSTEM FOR THE ENTERPRISE WITH THE ADAPTATION OF MECHANISMS AND USER INTERFACE
A. Vladimirov
Read the full article

';
Abstract
The paper deals with a problem of large information systems functioning that can process large volume of heterogeneous information at the enterprise. The structure of adaptive information system with the dedicated major segments: administrative and service-agent segment, data operating segment, intellectual segment is developed. The features of the system components are shown. The agent component structure of the adaptive information system is developed. The main components of the agent interaction model are marked out: coordination agent, adaptation agent, knowledge base agent, database agent, user agent for development of agents interaction process model in multi-agent adaptive information system by colored Petri nets. Main agent states, used in tasks processing are described. Model operation at different stages, analysis of the main system properties is studied. Analysis gives the possibility to reveal the most congested parts. Users' statistics of the system tools usage at the enterprise for getting probabilities is collected. The processes of system mechanisms adaptation and interface are developed and studied on the basis of the obtained statistical data. Application of the algorithm elements makes it possible to reduce time spending by the employees at the enterprise for finding necessary elements and tools, to simplify the process of users' interaction with the system, to modify the system work at high loads with copying the actuating agents.
Keywords:
multi-agent adaptive systems, agents interactions modeling, colored Petri nets, agent-based architecture
This work is licensed under a
Creative Commons Attribution-NonCommercial 4.0 International License