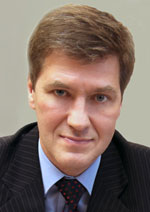 Nikiforov
Vladimir O.
D.Sc., Prof.
EFFECT OF METALLIC ISLET FILMS ON AGGREGATION AND MOLECULAR ABSORPTION ENHANCEMENT OF PSEUDOISOCYANINE
N. A. Toropov,
Read the full article

';
Abstract
The paper deals with experimental research results of silver islet films effect on the aggregation and optical properties of pseudoisocyanine dye molecular layers. Samples were prepared by metal evaporation on the dielectric substrate in a high-vacuum chamber and were coated with molecular layers by means of spin-coating technique. Morphology of islet films was investigated by scanning electron microscope. Absorption spectra of the samples were recorded on a spectrophotometer. Analysis of the component composition of molecular layers with Ag nanoparticles has shown the presence of the absorption band, which was not observed in the absorption spectra of the thin film and an alcohol solution of pseudoisocyanine. A new band identification was carried out by the absorption spectra of pseudoisocyanine aqueous solution and the spectra of thin film made of the aqueousalcoholic solution with addition of NaCl. It was established that the resulting absorption band corresponds to the J-aggregates. Thus, in the presence of silver nanoparticles the degree of pseudoisocyanine molecules aggregation is increased. The maximum of optical density of the molecular layer increases by 20 times.
Keywords:
metallic islet film, localized surface plasmon resonance, molecular layer, silver, pseudoisocyanine, J-aggregate
This work is licensed under a
Creative Commons Attribution-NonCommercial 4.0 International License