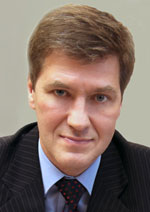 Nikiforov
Vladimir O.
D.Sc., Prof.
OPTICAL PROPERTIES OF PbSe QUANTUM DOTS FORMED IN FLUORINE PHOSPHATE GLASS
E. V. Kolobkova, A. Polyakova, A. Abdrshin, , N. V. Nikonorov, V. A. Aseev
Read the full article

';
Abstract
The paper deals with characteristics of PbSe quantum dots formation, deposited in fluorine phosphate glasses of the Na2O - P2O5 - Ga2O3 - A1F3 - ZnO based on data analysis of differential scanning calorimetry, X-ray diffraction and spectral-luminescent properties. The sizes of synthesized quantum dots are calculated (4-9 nm). Iintense luminescence was observed in the region from 500 to 1500 nm for all sizes of quantum dots. It is suggested that the luminescence band (575 nm) appearing at short heat treatment times is associated with the luminescence of PbSen and Sen clusters, where n = 2,3,4. Further increase of heat treatment time results in a shift of luminescence band maximum up to 1500 nm.
Keywords:
quantum dots, fluorine phosphate glass, PbSe, molecular clusters
This work is licensed under a
Creative Commons Attribution-NonCommercial 4.0 International License