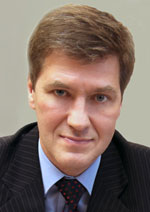 Nikiforov
Vladimir O.
D.Sc., Prof.
SURFACE ROUGHNESS IMPACT ON THE CORROSION RESISTANCE OF THE PRODUCTS IN MECHANICAL ENGINEERING
A. Y. Ivanov, D. B. Leonov
Read the full article

';
Abstract
The necessity to improve the quality of products by optimizing micro geometry of their surfaces is proved. A solution to the problem of technological support for corrosion resistance of engineering products based on the use of non-parametric method of surface micro-geometry evaluation and monitoring is suggested. The parameters of processing technology are given, making it possible to provide the best possible surface roughness of the D16T alloy parts with minimum value of corrosion penetration depth into their surface.
Keywords:
surface roughness, non-parametric method, corrosion resistance, corrosion penetration depth
This work is licensed under a
Creative Commons Attribution-NonCommercial 4.0 International License