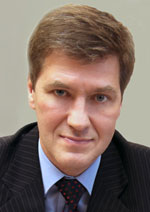 Nikiforov
Vladimir O.
D.Sc., Prof.
IMPROVEMENT OF TRAINING PROGRAMS FOR HUMAN RESOURCE MANAGERS ON THE BASIS OF LEARNING STYLES ANALYSIS
E. Karpova
Read the full article

';
Abstract
The paper deals with optimization problem of the learning process for adults. A theoretical analysis of the key individual psychological characteristics that influence the perception of broadcast knowledge into the learning process is done. The models of E. K Lindemann, D. Kolb, C. Rogers making it possible to create new conditions for better assimilation of knowledge are considered. It is shown that education of adult students significantly differs from the training of young specialists. It is noted that when planning training programs it is appropriate to take into account the different learning styles of listeners. The dominant learning style of a listener determines the characteristics of the learning process and the human response to specific techniques and efforts of the teacher. The results of a comprehensive study are given, the aim of which was to determine the best organizational and pedagogical conditions for training of the personnel managers. The total sample was consisted of 135 people. The duration of the training program is 540 hours. Results were analyzed and conclusions were done about the feasibility of interactive teaching methods application. Correlation analysis showed that the use of these training methods forms a positive relationship with the development of such indicators of management capacity as an in-depth understanding of managerial work, the ability to train and solve situational problems in the management of personnel.
Keywords:
adult education, professional training, learning style
This work is licensed under a
Creative Commons Attribution-NonCommercial 4.0 International License