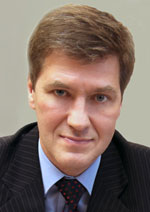 Nikiforov
Vladimir O.
D.Sc., Prof.
INVESTIGATION OF THE ULTRAVIOLET RADIATION INFLUENCE ON THE THIN FILMS SURFACE
E. Gavrish, V. A. Chuiko
Read the full article

';
Abstract
The article deals with the investigation of anisotropic texture creation on the smooth surface of the alignment
films on the basis of amorphous carbon (a-C:H) and indium-tin oxide (ITO) with ultraviolet laser radiation. The
results of the investigation are given with optical microscopy of the samples surface before and after the
processing of UV laser radiation, and the results of liquid crystal alignment on the processing surface. The
influence of the processing conditions on the surface texture is discussed.
Keywords:
amorphous carbon, indium-tin oxide film (ITO), thin films, UV radiation, liquid crystal (LC)
This work is licensed under a
Creative Commons Attribution-NonCommercial 4.0 International License