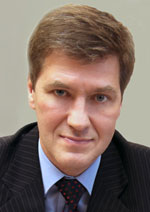 Nikiforov
Vladimir O.
D.Sc., Prof.
INTERACTION LAWS OF COUNTER-PROPAGATING LIGHT WAVES CONSISTING OF FEW OSCILLATIONS IN THE NONLINEAR DIELECTRIC MEDIA
E. Buyanovskaya, S. A. Kozlov
Read the full article

';
Abstract
Mechanisms of counter-propagating light waves interaction from low fluctuation count in non-linear dielectric mediums are theoretically considered. The analytical solution of the equation describing the field dynamics of counter-propagating light waves from low fluctuation count, interacting in the dielectric medium with instantaneous cube nonlinearity is obtained. Changes of light pulse time and spectral structure under counterpropagating pulse interaction are given. The efficiency of these phenomena is shown to be determined by oncoming pulse energy and is independent from its duration and spectral structure.
Keywords:
pulses consisting of the few oscillations of light field, interaction of counter-propagating waves, nonlinear dielectric media
This work is licensed under a
Creative Commons Attribution-NonCommercial 4.0 International License