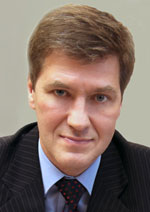 Nikiforov
Vladimir O.
D.Sc., Prof.
THE INCREASING OF SOLDER JOINTS RELIABILITY UNDER THERMOMECHANICAL STRESS BY MEANS OF UNDERFILLING BALL GRID ARRAY OF BGA PACKAGES
Гераничев В.Н.
Read the full article

';
Abstract
The encapsulation process (underfilling) was examined, that traditionally has been used as a part of Flip Chip assembly process. It is proposed to use underfilling for long-term protection of BGA devices in harsh operating environments. Specific guidelines were defined to ensure stability and quality of the encapsu-lation of large BGAs. In addition, this paper includes experimental data on thermal cycling for protected and nonprotected BGA samples.
Keywords:
BGA΄s, reliability, underfill dispensing process, thermal cycle tests
This work is licensed under a
Creative Commons Attribution-NonCommercial 4.0 International License