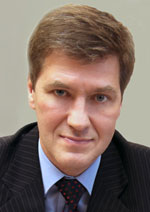 Nikiforov
Vladimir O.
D.Sc., Prof.
SINGLE NANOWHISKER FORMATION ON THE TOP OF CANTILEVER FOR SCANNING PROBE MICROSCOPY
A. Golubok, A. Kovrov, V. Levichev, I. Mukhin, O. Prihodko
Read the full article

';
Abstract
Methods of whisker growth like molecular beam epitaxy, metall organical vapor deposition, growth with
electrolysis, method of laser ablation are very popular at present. In this work we offer extension of noncontrol
self-organized whisker growth method by the action of the electron beam. Introduced method supposes to
control geometry growth and properties of whiskers. Single whisker growth technology can be applied in
scannig probe microscopy by making superprobe for researching well-branching surface (deep channels and the
cavity) and making the points of the cathodes and nanotweezers.
Keywords:
whisker, scanning probe microscopy, cantilever, electronic microscopy, whisker growth.
This work is licensed under a
Creative Commons Attribution-NonCommercial 4.0 International License