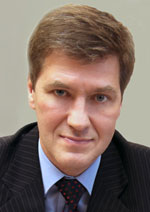 Nikiforov
Vladimir O.
D.Sc., Prof.
MODELING OFMULTISERVICE NETWORK COREWITH RELATIVE PRIORITIZATION OF NON-HOMOGENEOUS TRAFFIC
T. I. Aliev, I. Nikulsky, V. Pyattaev
Read the full article

';
Abstract
Queuing network models were developed for urban multiservice network core servicing three types of traffic
(voice, video and data). To study the network characteristics (average delay and jitter of different frames types)
the combined approach, based on analytical and simulation methods, is used. The study results are based on
numerous modeling experiments with different assumptions about traffic characteristics and processing in nodes
with relative prioritization.
Keywords:
multiservice network, non-homogeneous traffic, Quality of Service (QoS), network delay, delay jitter, relative prioritization.
This work is licensed under a
Creative Commons Attribution-NonCommercial 4.0 International License