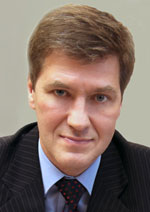 Nikiforov
Vladimir O.
D.Sc., Prof.
OPTICAL SYSTEM OF VARIABLE MAGNIFICATION IN THE MICROSCOPE LIGHTING APPLIANCE
T. V. Tochilina
Read the full article

';
Abstract
Efficiency analysis of the light flow use in the optical system lighting appliance of modern microscope was
done. It is shown that parameters of observational and lighting branches of the microscope can be coordinated by
including variable magnification system in the optical system of lighting appliance that will allow to increase
tenfold the efficiency of the light flow use. A new approach to the construction of the optical system lighting
appliance is necessary. Possible variants of such systems are considered, analytical correlations, defining the size
of its components, are obtained.
Keywords:
lighting device, condenser, collector, lens, light flow, eyepiece
This work is licensed under a
Creative Commons Attribution-NonCommercial 4.0 International License