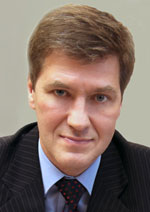 Nikiforov
Vladimir O.
D.Sc., Prof.
INVESTIGATION OF LANTHANUM GALLATES BY X-RAY DIFFRACTION ANALYSIS
O. Pshenko, L. Pyankova
Read the full article

';
Abstract
The work deals with the study of phase composition of poorly-type semiconductors - Lanthanum Gallates
Perovskite (LaGaO3) doped with a touch of Co3+ (up to 10%) by X-ray diffraction analysis. Comparative analysis
of X-ray pictures shows that cobalt impurity concentration growth in the mixed crystals LaGaСохO3 leads to
insufficient deformation of cubic crystal lattice with the decrease of elementary cell parameter by 0, 03 nm.
Nevertheless, in Lanthanum gallates the local symmetry decrease is possible and it becomes apparent on X-ray
pictures as diffraction maximum splitting.
Keywords:
Lanthanum gallates, X-ray analysis, doped semiconductors, perovskite structures, qualitative analysis of semiconductors
This work is licensed under a
Creative Commons Attribution-NonCommercial 4.0 International License