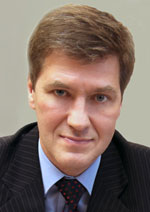 Nikiforov
Vladimir O.
D.Sc., Prof.
MICRO- AND NANOMODIFICATION OF A METAL LAYER ON A POLYMERIC SUBSTRATE IN DYNAMIC AND STATIC FORCE LITHOGRAPHY MODE
A. Pinaev, A. Golubok
Read the full article

';
Abstract
The surface of Au 20 nm thickness film on a polycarbonate substrate has been modified by dynamic force
lithography (DFL) method. The ~ 100nm spatial resolution has been obtained. It is shown that the spatial
resolution of a method is defined by radius of used probes. The optimum mode at which the W probe completely
cuts a metal film is defined. The factors influencing the process of surface modification by DFL method are
discussed. The two-dimensional diffraction lattice with ~500 nm spatial period has been made. The lattice
structure has been studied by means of the scanning semicontact force microscopy, scanning electron
microscopy and optical confocal microscopy. The conclusion on creation possibility of nanoelectronic,
nanophotonic and nanosensoric elements in metal-polymeric systems by DFL method has been made.
Keywords:
scanning probe microscopy, lithography, dynamic force lithography
This work is licensed under a
Creative Commons Attribution-NonCommercial 4.0 International License