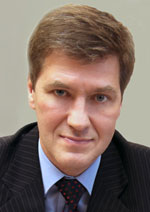 Nikiforov
Vladimir O.
D.Sc., Prof.
EXPLORATION AND APPLICATION OF MECHATRONIC DEVICES WITH PIEZOACTUATORS
A. B. Smirnov, Крушинский И.А.
Read the full article

';
Abstract
This article introduces a significance of using the mechatronic devices with piezoactuators for setting surface
mounted components on print board. A new piezoelectric gripper is developed. This device has self-sensing
mode without any additional sensors and it can do micro-positioning of small details. The micro-positioning
function was examined experimentally. Hysteresis reduction was observed during micro-positioning. Some
different methods of sensing were suggested.
Keywords:
mechatronic device, bimorph, piezoelectric gripper, micro-positioning, self-sensing, experimental stand, hysteresis reduction.
This work is licensed under a
Creative Commons Attribution-NonCommercial 4.0 International License