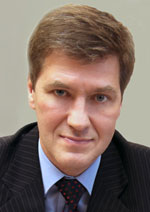 Nikiforov
Vladimir O.
D.Sc., Prof.
CONSTRUCTION OF STRAPDOWN STABILIZED GYROCOMPASS BASED ON THE ELECTROSTATIC GYROSCOPE AND MICROMECHANICAL SENSORS
G. I. Emelyantsev, A. Lochehin
Read the full article

';
Abstract
Algorithms of an initial adjustment and calibration of strapdown stabilized gyrocompass on the basis of an
electrostatic gyroscope and the block of micromechanical gauges are considered. Characteristic feature of the
considered decision of an initial adjustment and calibration in start-up is total error estimation of an electrostatic
gyroscope. The equipments of satellite navigating system given to a reception with the carried aerials and the
inertial block on micromechanical gauges are involved as the reference information. Thus, the virtual ("ideal")
electrostatic gyroscope used as the basic is formed. Algorithms are generated on the basis of generalized Kalman
filter with a feedback along condition vector.
Keywords:
stabilized gyrocompass, electrostatic gyroscope, micromechanical inertial sensors, satellite navigation systems, calibration.
This work is licensed under a
Creative Commons Attribution-NonCommercial 4.0 International License