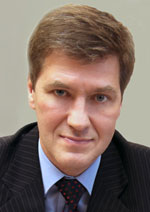 Nikiforov
Vladimir O.
D.Sc., Prof.
TERAHERTZ ABSORPTION SPECTRA OF 2,3- BIPHOSPHOGLYCERATE IN RED BLOOD CELLS AND THEIR PRACTICAL SIGNIFICANCE
L. Kamysheva, Y. Grachyov, L. Kiseleva, N. S. Vashurin, O. Lopatiev, I. Zeldi, I. I. Popov, V. G. Bespalov
Read the full article

';
Abstract
The article deals with the study of 2,3-bifosfoglitserata diagnosis - an important organic phosphorus compound in the red blood cells of mammals. Experimentally obtained transmission spectra of blood with the addition of riboxin, which is an inhibitor of 2,3-biphosphoglycerate (2,3-BFG) mutase, in the range of 0.1 to 1 THz are presented.
Keywords:
THz radiation, transmission spectrum, blood, red (blood) cells, hemoglobin, 2,3- biphosphoglycerate.
This work is licensed under a
Creative Commons Attribution-NonCommercial 4.0 International License