Menu
Publications
Editor-in-Chief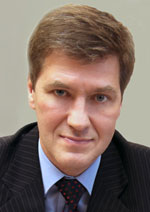 Nikiforov
Vladimir O.
D.Sc., Prof.
Partners
Lyudmila . Kamysheva
Work place: Ministry of Education and Science of the Mari El Republic
Post: leading expert
E-mail: kamilaiva@mail.ru

Kamysheva L. ., Grachyov Y. ., Kiseleva L. ., Vashurin N. S., Lopatiev O. ., Zeldi I. ., Popov I. I., Bespalov V. G.
TERAHERTZ ABSORPTION SPECTRA OF 2,3- BIPHOSPHOGLYCERATE IN RED BLOOD CELLS AND THEIR PRACTICAL SIGNIFICANCE
The article was published in issue №3, volume 12, 2012