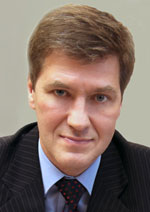 Nikiforov
Vladimir O.
D.Sc., Prof.
QUANTUM CRYPTOGRAPHY SYSTEM WITH A SINGLE PHOTON SOURCE BASED ON THE SPONTANEOUS PARAMETRIC SCATTERING EFFECT
V. I. Egorov, I. Z. Latypov, A. V. Gleim, S. A. Chivilikhin, A. I. Rupasov
Read the full article

';
Abstract
A scheme of a single photon source for quantum informatics applications based on the spontaneous parametric scattering effect is proposed and a quantum cryptography setup using it is presented. The system is compared to the alternative ones that operate with attenuated classic light.
Keywords:
quantum cryptography, spontaneous parametric scattering, biphotons, sidebands.
This work is licensed under a
Creative Commons Attribution-NonCommercial 4.0 International License