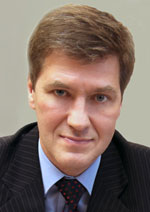 Nikiforov
Vladimir O.
D.Sc., Prof.
SMALL DISPLACEMENTS DETERMINATION OF OBJECTS SURFACE BY DIGITAL HOLOGRAPHY METHODS
V. Gendin
Read the full article

Abstract
The results of small displacements determination of objects surface by digital holography method are presented.
The process of digital holograms recording and phase information reconstruction from the holograms are
considered. Measurement accuracy of the normal surface displacement of an object while using two methods of
the zero-order diffraction removing is compared with the following phase calculation of object wave.
Keywords:
digital holography, image reconstruction, removal of the zero-order diffraction
This work is licensed under a
Creative Commons Attribution-NonCommercial 4.0 International License