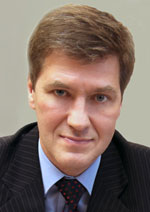 Nikiforov
Vladimir O.
D.Sc., Prof.
PROGRAMMING METHOD OF TOP-LEVEL FINITE AUTOMATA CREATION FOR THE UNMANNED AIRPLANE MODEL CONTROL BY TRAINING EXAMPLES
S. Kazakov, F. Tsarev, A. A. Shalyto
Read the full article

';
Abstract
Finite automata system for the complex behavior objects control is described in the paper. It consists of top-level finite automaton used for switching between control modes and low-level automata for the unmanned airplane control in one mode. This work is a continuation of low-level automata creation study by genetic programming algorithm based on training examples. The article deals with top-level finite automata creation using training examples and already created low-level automata. So genetic programming isn't used. Experimental investigation results of the suggested method are given.
Keywords:
finite automata, unmanned airplane.
This work is licensed under a
Creative Commons Attribution-NonCommercial 4.0 International License