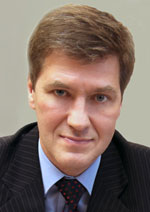 Nikiforov
Vladimir O.
D.Sc., Prof.
SINGLE EXCIMER LASER PULSE WRITING OF NARROW-BAND FIBER BRAGG REFLECTORS BY PHASE MASK METHOD
S. V. Varzhel, A. V. Kulikov, V. A. Aseev, V. S. Brunov, V. Kalko, V. Arteev
Read the full article

';
Abstract
The article presents the results of fiber Bragg gratings writing in birefringent optical fibers with enhanced photorefractive feature by a single 20 ns pulse of KrF excimer laser (248 nm wavelength). Fiber Bragg gratings in birefringent optical fiber with elliptical stress cladding with reflection more than 10% and spectral width at half maximum ~ 0.1 nm were obtained. Beat length and the effective refractive index for each of the selected axes of a birefringent fiber were calculated based on experimentally obtained data.
Keywords:
fiber Bragg grating, birefringence, photorefractive feature, phase mask, excimer laser.
This work is licensed under a
Creative Commons Attribution-NonCommercial 4.0 International License