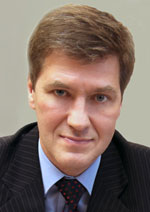 Nikiforov
Vladimir O.
D.Sc., Prof.
PRECISION GYROSCOPIC SYSTEM OF UNDERGROUND NAVIGATION FOR WORK IN HIGH LATITUDES. THE MAIN SCHEME-CONSTRUCTIVE SOLUTIONS
Y. Gordeev, T. V. Paderina, D. A. Sokolov
Read the full article

';
Abstract
The paper presents main scheme-constructive solutions obtained by layout designing of the gyroscopic orientation module for underground navigation system intended for the shelves of the Arctic seas. The system implements a fundamentally new kinematics of the strapdown gyroscopic inclinometer providing the required accuracy of well positioning in the high latitudes.
Keywords:
underground navigation system, strapdown gyroscopic inclinometer, shelves of the Arctic seas.
This work is licensed under a
Creative Commons Attribution-NonCommercial 4.0 International License