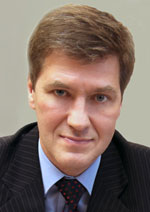 Nikiforov
Vladimir O.
D.Sc., Prof.
MAIN FEATURES OF THE ELECTROMAGNETIC FIELDS STRUCTURE GENERATED IN THE LOWER IONOSPHERE BY LOW-FREQUENCY GROUND-LEVEL SOURCES
S. Rybachek, M. A. Belyansky
Read the full article

';
Abstract
The problem of determining the electromagnetic fields generated in the lower ionosphere (50 - 500 km) by ground-level low-frequency antennas is considered.The solution is createdby the methodof normalwavesinmodelsof a sphericalEarth-ionosphere waveguide, radial inhomogeneous anisotropicionosphere, an arbitraryorientation ofthe geomagnetic field andthe electricandmagnetic dipoles. Fieldsdefinition in theionosphereathigher altitudesin thesolution instability reduces tointegration ofdifferential equationsforthe tangentialfield components ofthe penetratingon-site wave. Acombinationof differential equations forthe wave admittanceandfor the tangentialcomponentof waves is integrated atloweraltitudes. Initialconditions are given inthe WKB (Wentzel-Kramers-Brillouin)approximation.Relations betweenthe components ofthe fieldsexcitedin theionosphere bythe variousground-levelemitters are obtained using thegeneralizedreciprocity theorem.
Keywords:
electromagneticfields, anisotropicionosphere, low-frequencyantennas.
This work is licensed under a
Creative Commons Attribution-NonCommercial 4.0 International License