Menu
Publications
Editor-in-Chief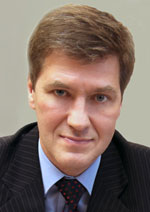 Nikiforov
Vladimir O.
D.Sc., Prof.
Partners
THE NEMATIC LIQUID CRYSTALS APPLICATION TO QUARTZ RESONATORS STRUCTURAL DEFECTS DETECTING
O. . Gabaraev, M. G. Tomilin
Read the full article

Abstract
The nematic liquid crystals (NLCs) application to quartz resonators structural defects detecting at industrial conditions is described. Natural and artificial quartz structural heterogeneities appearing at technological processing were the subject of investigation. NLCs technique was compared with etching, x-ray and acoustic methods. It was demonstrated that suggested NLC technique is non-destructive in comparison with etching; more accurate in comparison with acoustic method, and as opposed to it, gives the possibility of integrated picture of examined surface parameters; and more expressive and cheep in comparison with x-ray method. NLC technique can be considered as an independent method that gives additional information about the characteristics of objects under investigation.
Keywords:
liquid crystals, defectoscopy, surface, structural heterogeneities, non-destructive testing, crystalline quartz.
This work is licensed under a
Creative Commons Attribution-NonCommercial 4.0 International License