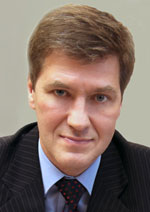 Nikiforov
Vladimir O.
D.Sc., Prof.
ANALYSIS OF STATE SPACE STRUCTURE FOR LINEAR BINARY DYNAMIC SYSTEMS BASED ON THEIR RECURRENT MODEL REPRESENTATION
E. S. Yaitskaya, A. V. Ushakov
Read the full article

';
Abstract
The article deals with problems concerning state space structure of linear binary dynamic systems (LBDS) with stationary positions and closed circles with or without exogenous set sequence on the LBDS enter. The solving task appeared to be connected with specificity of algebraic LBDS state matrix eigenvalue spectrum state, geometric matrix eigenvector spectrum state and depends on index µ which this matrix belongs. The algorithm of LBDS state space structure analysis is offered. The example is given.
Keywords:
binary dynamic system, state space structure, eigenvector, index accessory, stationary states, closed cycles.
This work is licensed under a
Creative Commons Attribution-NonCommercial 4.0 International License