Menu
Publications
Editor-in-Chief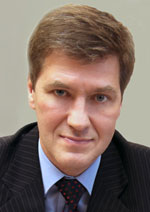 Nikiforov
Vladimir O.
D.Sc., Prof.
Partners
DIFFERENTIAL CAPACITIVE DISPLACEMENT PICKUP WITH ADDITIONAL OUTPUT FOR THE GAP CHANGE DATA
R. . Lyukshonkov, N. . Moiseev
Read the full article

Abstract
Differential capacitive displacement pickup block diagram of a micromechanical gyroscope moving mass is considered. The problem of the gap between pickup electrodes and moving mass changes under the external influence is analyzed. The distinguishing feature of the pickup diagram is an additional signal which compensates changes of the gap. Experimental results of the displacement pickup model are presented.
Keywords:
differential capacitive displacement pickup, micromechanical inertial sensors, external influence compensation, gap between electrodes.
This work is licensed under a
Creative Commons Attribution-NonCommercial 4.0 International License