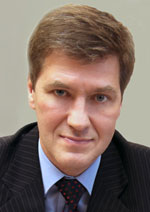 Nikiforov
Vladimir O.
D.Sc., Prof.
OPTICAL ANTENNA-PROBES BASED ON METALLIC NANOSHELLS
A. Karaev, A. Denisyuk
Read the full article

';
Abstract
We investigate the possibility of using complex metallic nanostructures based on metallic nanoshells as near-field optical probes. Due to the effect of plasmon resonance such structures are able to effectively concentrate the energy of incident optical radiation to a subwavelength area. We present the results of numerical modeling of optical antennas electrodynamics performed by finite difference time-domain method. Also we investigate the ways of experimental fabrication of such nanostructures.
Keywords:
near-field optical microscopy, optical antennas, metallic nanoparticles.
This work is licensed under a
Creative Commons Attribution-NonCommercial 4.0 International License