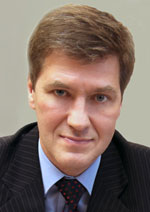 Nikiforov
Vladimir O.
D.Sc., Prof.
INVESTIGATION OF MULTIFREQUENCY LASING OF COMPACT DIODE PUMPED SOLID STATE LASERS IN MID-IR WAVELENGTH REGION
M. Inochkin, V. V. Nazarov, D. Sachkov, L. V. Khloponin, V. Y. Khramov, N. A. Fedorov
Read the full article

';
Abstract
The results of investigation of lasing at wavelengths 2,66, 2,71 and 2,81 um in Er:YLF with pulse-periodical diode pumping at wavelength 0,98 um are presented. The strong dependence of lasing delays at separate lasing wavelengths from pumping pulse repetition rate was observed. Also the lasing termination at wavelengths 2,66 and 2,71 um with rising of pumping pulse repetition rate was observed. The new way of lasing spectrum variation was suggested.
Keywords:
erbium, laser, diode pumping, multifrequency lasing, pulse-periodical mode.
This work is licensed under a
Creative Commons Attribution-NonCommercial 4.0 International License