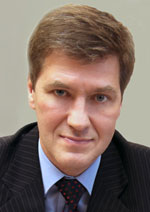 Nikiforov
Vladimir O.
D.Sc., Prof.
RESEARCH OF THE MICROSCOPE OBJECTIVE BY THE COMPUTER IZOPHOTOMETRY METHOD WITH ACCUMULATION
Ле З.Т., V. K. Kirillovsky
Read the full article

';
Abstract
The article is devoted to the computer izophotometry method of PSF and the corresponding equipment for testing the image quality of a micro objective by measurement PSF by a direct method with subsequent calculation of MTF and energy concentration function. From the optical system user's point of view, the major problem of the testing and certification is measuring of the image real structure and comparison of the received result to the calculated characteristics. Data processing is made in real time that allows receiving results in the shortest time, thus PSF of the test-object is defined with transfer of the image thin diffraction structures, and the three-dimensional graph of PSF, that raises results reliability, is displayed.
Keywords:
a micro objective, the image quality testing, computer izophotometry.
This work is licensed under a
Creative Commons Attribution-NonCommercial 4.0 International License