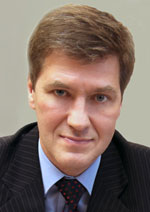 Nikiforov
Vladimir O.
D.Sc., Prof.
Burdin Vladimir A.
Work place: Povolzhskiy State University of Telecommunications and Informatics, Samara, 443010, Russian Federation
Post: Vice-rector
Degree: D.Sc., Professor
E-mail: burdin@psati.ru

Demidov V. V., Ter-Nersesyantz E. V., Bourdine A. V., Burdin V. A., Minaeva A. Y., Khokhlov A. V., Komarov A. V., Ustinov S. V., Dukelskiy K. V.
TECHNOLOGICAL ASPECTS OF MANUFACTURING SILICA OPTICAL FIBERS WITH LARGE CENTRAL DEFECT OF GRADED REFRACTIVE INDEX PROFILE FOR FIBER OPTIC SENSORS BASED ON FEW-MODE EFFECTS
The article was published in issue 2, volume 17, 2017