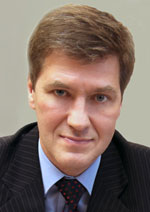 НИКИФОРОВ
Владимир Олегович
д.т.н., профессор
УДК 004.312.46, 004.896, 681.52
АЛГОРИТМЫ УПРАВЛЕНИЯ ЭЛЕКТРОМЕХАНИЧЕСКИМИ ОБЪЕКТАМИ С ИСПОЛЬЗОВАНИЕМ РЕГУЛЯТОРОВ НА ОСНОВЕ НЕЧЕТКОЙ ЛОГИКИ
Стжелецки Р., Демидова Г.Л., Лукичев Д.В., Поляков Н.А., Абдуллин А.А., Ловлин С.Ю.
Читать статью полностью

Язык статьи -
русский
Ссылка для цитирования:
Стжелецки Р., Демидова Г.Л., Лукичев Д.В., Поляков Н.А., Абдуллин А.А., Ловлин С.Ю. Алгоритмы управления электромеханическими объектами с использованием регуляторов на основе нечеткой логики // Научно-технический вестник информационных технологий, механики и оптики. 2019. Т. 19. № 1. С. 1–14. doi: 10.17586/2226-1494-2019-19-1-1-14
Аннотация
Рассмотрены алгоритмы управления электромеханическими системами с использованием теории нечеткой логики, приводятся основные положения их синтеза, рассматриваются методы анализа их устойчивости на основе нечетких функций Ляпунова. Эти алгоритмы чаще всего реализуются в виде различных регуляторов, применение которых целесообразно в системах, математическая модель которых не известна, не детерминирована или является строго нелинейной, как вследствие нелинейных возмущающих воздействий внутри структуры, так и вследствие воздействия внешних сил. Описаны основные методы формирования логического решения, используемые при проектировании различных типов регуляторов с нечеткой логикой, предложенные Заде, Мамдани, Такаги, Сугено и Менделем, приводится типовая структурная схема таких регуляторов в общем виде. Особенности применения данных регуляторов при управлении различными техническими объектами позволяют провести их классификацию по различным признакам: топологиям структур, методам формирования лингвистических правил, методам дефаззификации, типам функций принадлежности. Представлены методы настройки таких регуляторов с применением генетических алгоритмов и нейронных сетей, описаны наиболее используемые критерии оптимальности. Показано, что экспертный подход на основе нечеткой логики применим как при управлении различными координатами информационных подсистем робототехнических комплексов, так и при управлении силовыми ключами их энергетических подсистем. При обзоре публикаций упор делался на источники, содержащие сравнение с традиционными подходами к управлению, а также на источники, в которых теоретические исследования подтверждаются экспериментами с использованием различных электромеханических объектов. Статья
Ключевые слова:
регулятор с нечеткой логикой, нечеткая логика, управление движением, интеллектуальные алгоритмы, робототехнические комплексы, адаптивное управление, генетический алгоритм
Благодарности.
Работа выполнена при государственной финансовой поддержке ведущих университетов Российской Федерации (субсидия 08-08).
Список литературы
1.Васильев В.Н., Томасов В.С., Шаргородский В.Д., Садовников М.А. Состояние и перспективы развития прецизионных электроприводов комплексов высокоточных наблюдений // Известия высших учебных заведений. Приборостроение. 2008. № 6. Т. 51. С. 5–12.
6. Zadeh L.A. The concept of a linguistic variable and its application to approximate reasoning - I // Information Sciences. 1975. V. 8. N3. P. 199–249.
11. Sugeno M. (ed.) Industrial Applications of Fuzzy Control. New York: Elsevier, 1985.
23. Preeti M., Beniwal N.S. Comparison of conventional and fuzzy P/PI/PD/PID controller for higher order non linear plant with high dead time // International Journal of Scientific and Research Publications. 2012. V. 2. N 8. P. 377–382.
26. Лукичев Д.В., Демидова Г.Л. Нечеткая система управления позиционным следящим электроприводом опорно-поворотных устройств с нежесткими осями // Вестник ИГЭУ. 2013. № 6. С. 60–64.
30. Иванченко А.Я. Применение адаптивной настройки пропорционально-интегрально-дифференциального регулятора для управления антенной радиолокатора // Труды МАИ. 2013. № 66. C. 19.
37. Уткин В.И. Скользящие режимы и их применения в системах с переменной структурой. М.: Наука, 1974. 272 с.
39. Bonivento C., Fantuzzi C., Martin L. Adaptive fuzzy logic controller synthesis via a sliding mode approach // Proc. European Control Conference. 1995. ECC 95. V. 2.
48. Jang J.-S.R., Sun C.-T. Neuro-Fuzzy and Soft Computing: A Computational Approach to Learning and Machine Intelligence. Prentice Hall, 1997.
52. Гладков Л.А., Курейчик В.В., Курейчик В.М. Генетические алгоритмы. М.: Физматлит, 2006. 320 с.
53. Курейчик В.В., Курейчик В.М., Родзин С.И. Теория эволюционных вычислений. М.: ФИЗМАТЛИТ, 2012. 260 с.
67. Wrobel K. Fuzzy adaptive control of nonlinear two-mass system // Power Electronics and Drives. 2016. V. 1 (36). N 2. P. 133–146.
76. Горюшкин В.А. Об устойчивости нечетких систем управления // Вестник КРАУНЦ. Физ.-мат. науки. 2011. № 1(2). C. 17–25.
77. Горюшкин В.А. О синтезе регулятора для стабилизации нечеткой системы с неопределенностью // Вестник КРАУНЦ. Физ.-мат. науки, 2011. № 2(3). C. 5–11.