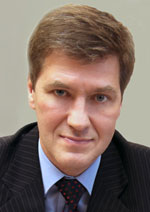 НИКИФОРОВ
Владимир Олегович
д.т.н., профессор
Тимофеев. А. В.
МЕТОД ВЫБОРА ГИПЕРПАРАМЕТРОВ В ЗАДАЧАХ МАШИННОГО ОБУЧЕНИЯ ДЛЯ КЛАССИФИКАЦИИ СТОХАСТИЧЕСКИХ ОБЪЕКТОВ
Список литературы
1.
Montgomery D.C. Design and Analysis of Experiments. 8th ed. John Wiley & Sons, 2013. 752 p.
2.
Bergstra J., Bengio Y. Random search for hyper-parameter optimization // Journal of Machine Learning Research. 2012. V. 13. P. 281–305.
3.
Zeng X., Luo G. Progressive sampling-based Bayesian optimization for efficient and automatic machine learning model selection // Health Information Science and Systems. 2017. V. 5. P. 2. doi:
10.1007/s13755-017-0023-z
4.
Zhang Y., Bahadori M.T., Su H., Sun J. FLASH: Fast bayesian optimization for data analytic pipelines // Proc. 22nd ACM SIGKDD International Conference on Knowledge Discovery and Data Mining (KDD). 2016. P. 2065–2074. doi:
10.1145/2939672.2939829
5.
Rasmussen C., Williams C. Gaussian Processes for Machine Learning. The MIT Press, 2006. 248 p.
6.
Maclaurin D., Duvenaud D., Adams R. Gradient-based hyperparameter optimization through reversible learning // ICML'15: Proc. of the 32nd International Conference on International Conference on Machine Learning. 2015. P. 2113–2122.
7.
Powers D.M. Evaluation: from precision, recall and F-measure to ROC, Informedness, markedness & correlation // Journal of Machine Learning Technologies. 2011. V. 2. N 1. P. 37–63.
8.
Bishop C.M. Pattern Recognition and Machine Learning. Springer, 2006. 738 p.
9.
Calders T., Jaroszewicz S. Efficient AUC optimization for classification // Lecture Notes in Computer Science (including subseries Lecture Notes in Artificial Intelligence and Lecture Notes in Bioinformatics). 2007. V. 4702. P. 42–53. doi:
10.1007/978-3-540-74976-9_8
10.
Drucker H., Burges C.J.C., Kaufman L., Smola A., Vapnik V. Support vector regression machines // Advances in Neural Information Processing Systems. 1997. V. 9. P. 155–161.
11.
Friedman J.H. Greedy function approximation: A gradient boosting machine // Annals of Statistics. 2001. V. 29. N 5. P. 1189–1232. doi:
10.1214/aos/1013203451
12.
Nelder J.A., Mead R. A simplex method for function minimization // Computer Journal. 1965. V. 7. N 4. P. 308–313. doi:
10.1093/comjnl/7.4.308
This work is licensed under a
Creative Commons Attribution-NonCommercial 4.0 International License