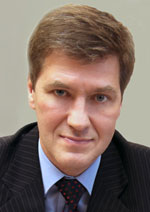 НИКИФОРОВ
Владимир Олегович
д.т.н., профессор
Хайдарова Р.Р., Муромцев Д.И., Лапаев М.В., Фищенко В.Д.
МОДЕЛЬ РАСПРЕДЕЛЕННОЙ СВЕРТОЧНОЙ НЕЙРОННОЙ СЕТИ НА КЛАСТЕРЕ КОМПЬЮТЕРОВ С ОГРАНИЧЕННЫМИ ВЫЧИСЛИТЕЛЬНЫМИ РЕСУРСАМИ
Список литературы
1. Shafique K., Khawaja B.A., Sabir F., Qazi S., Mustaqim M. Internet of Things (IoT) for next-generation smart systems: A review of current challenges, future trends and prospects for emerging 5G-IoT scenarios // IEEE Access. 2020. V. 8. P. 23022–23040. doi: 10.1109/ACCESS.2020.2970118
2. Shi W., Cao J., Zhang Q., Li Y., Xu L. Edge computing: Vision and challenges // IEEE Internet of Things Journal. 2016. V. 3. N 5. P. 637–646. doi: 10.1109/JIOT.2016.2579198
3. Tarasenko A.O., Yakimov Y.V., Soloviev V.N. Convolutional neural networks for image classification // CEUR Workshop Proceedings. 2019. V. 2546. P. 101–114.
4. Zangeneh E., Rahmati M., Mohsenzadeh Y. Low resolution face recognition using a two-branch deep convolutional neural network architecture // Expert Systems with Applications. 2020. V. 139. P. 112854. doi: 10.1016/j.eswa.2019.112854
5. Solovyev R., Kustov A., Telpukhov D., Rukhlov V., Kalinin A. Fixed-point convolutional neural network for real-time video processing in FPGA // Proc. of the 2019 IEEE Conference of Russian Young Researchers in Electrical and Electronic Engineering (EIConRus). 2019. P. 1605–1611. doi: 10.1109/EIConRus.2019.8656778
6. Widiastuti N.I. Convolution neural network for text mining and natural language processing // IOP Conference Series: Materials Science and Engineering. 2019. V. 662. N 5. P. 052010. doi: 10.1088/1757-899X/662/5/052010
7. Giménez M., Palanca J., Botti V. Semantic-based padding in convolutional neural networks for improving the performance in natural language processing. A case of study in sentiment analysis // Neurocomputing. 2020. V. 378. P. 315–323. doi: 10.1016/j.neucom.2019.08.096
8. Sim H.S., Kim H.I., Ahn J.J. Is deep learning for image recognition applicable to stock market prediction? // Complexity. 2019. P. 4324878. doi: 10.1155/2019/4324878
9. Borovykh A., Bohte S., Oosterlee C.W. Conditional time series forecasting with convolutional neural networks // arXiv. arXiv:1703.04691. 2018.
10. Mao J., Chen X., Nixon K.W., Krieger C., Chen Y. MoDNN: Local distributed mobile computing system for deep neural network // Proc. 20th Design, Automation and Test in
Europe Conference and Exhibition (DATE 2017). 2017. P. 1396–1401. doi: 10.23919/DATE.2017.7927211
11. Wang S., Tuor T., Salonidis T., Leung K.K., Makaya C., He T., Chan K. When edge meets learning: Adaptive control for resource-constrained distributed machine learning // Proc. of the IEEE Conference on Computer Communications (INFOCOM 2018). 2018. P. 63–71. doi: 10.1109/INFOCOM.2018.8486403
12. Motamedi M., Fong D., Ghiasi S. Machine intelligence on resource-constrained IoT devices: The case of thread granularity optimization for CNN inference // ACM Transactions on Embedded Computing Systems. 2017. V. 16. N 5s. P. 151. doi: 10.1145/3126555
13. Khan A., Sohail A., Zahoora U., Qureshi A.S. A survey of the recent architectures of deep convolutional neural networks // Artificial Intelligence Review. 2020. V. 53. N 8. P. 5455–5516. doi: 10.1007/s10462-020-09825-6
14. Krizhevsky A., Sutskever I., Hinton G.E. ImageNet classification with deep convolutional neural networks // Advances in Neural Information Processing Systems. 2012. V. 2. P. 1097–1105.
15. Alippi C., Disabato S., Roveri M. Moving convolutional neural networks to embedded systems: the alexnet and VGG-16 case // Proc. 17th ACM/IEEE International Conference on Information Processing in Sensor Networks (IPSN). 2018. P. 212–223. doi: 10.1109/IPSN.2018.00049
16. Кучумов Р.И. Реализация и анализ work-stealing планировщика задач // Стохастическая оптимизация в информатике. 2016. Т. 12. № 1. С. 20–39.
17. Dang H., Liu F., Stehouwer J., Liu X., Jain A. On the detection of digital face manipulation // arXiv. arXiv:1910.01717. 2019.
18. Yang S., Luo P., Loy C.C., Tang X. WIDER FACE: A face detection benchmark // Proc. 29th IEEE Conference on Computer Vision and Pattern Recognition (CVPR 2016). 2016. P. 5525–5533. doi: 10.1109/CVPR.2016.596
19. Boyko N., Basystiuk O., Shakhovska N. Performance evaluation and comparison of software for face recognition, based on dlib and opencv library // Proc. 2nd IEEE International Conference on Data Stream Mining and Processing (DSMP). 2018. P. 478–482. doi: 10.1109/DSMP.2018.8478556
20. Khaydarova R., Fishchenko V., Mouromtsev D., Shmatkov V., Lapaev M. ROCK-CNN: a distributed RockPro64-based convolutional neural network cluster for IoT. Verification and performance analysis // Proc. 26th Conference of Open Innovations Association (FRUCT). 2020. P. 174–181. doi: 10.23919/FRUCT48808.2020.9087457
This work is licensed under a
Creative Commons Attribution-NonCommercial 4.0 International License