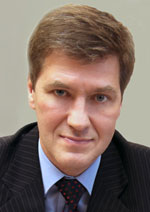 Nikiforov
Vladimir O.
D.Sc., Prof.

doi: 10.17586/2226-1494-2015-15-3-546-549
DETERMINATION OF VICKERS MICROHARDNESS IN β-Ga2O3 SINGLE CRYSTALS GROWN FROM THEIR OWN MELT
L. I. Guzilova, V. N. Maslov, K. E. Aifantis, A. E. Romanov, V. I. Nikolaev
Read the full article

';
Article in
English
For citation:
Guzilova L.I., Maslov V.N., Aifantis K.E., Romanov A.E., Nikolaev V.I. Determination of Vickers microhardness in β-Ga2O3 single crystals grown from their own melt.
Scientific and Technical Journal of Information Technologies, Mechanics and Optics
, 2015, vol.15, no. 3, pp. 546–549.
Abstract
The results of microhardness measurements of β-Ga2O3 single crystals for (001) crystallographic face are reported. The crystals were grown by the free crystallization with the "Garnet-2M" equipment. Microhardness values ​​ were determined by the Vickers method at varying loads. A four-sided diamond pyramid was used as an indenter. The average value of gallium oxide microhardness was equal to 8.91 GPa. We have carried out comparison of the values ​​obtained with the microhardness for the other wide bandgap semiconductors - epitaxial GaN layers grown on 6H-SiC and GaP layers grown on GaP:S. The findings are usable for machining process development of β-Ga2O3 single crystal substrates. In particular, silicon carbide and electrocorundum may be recommended for β-Ga2O3 machine processing.
Keywords:
gallium oxide, wide band gap semiconductor, microhardness, Vickers hardness test.
Acknowledgements.
This work has been supported by the Russian Scientific Foundation (Grant RSF № 14-29-00086).
References
1. Galazka Z., Uecker R., Irmscher K., Albrecht M., Klimm D., Pietsch M., Brützam M., Bertram R., Ganschow S., Fornari R. Czochralski growth and characterization of β-Ga2O3 single crystals. Crystal Research and Technology, 2010, vol. 45, no. 12, pp. 1229–1236. doi: 10.1002/crat.201000341
2. Hwang W.S., Verma A., Peelaers H., Protasenko V., Rouvimov S., Xing H., Seabaugh A., Haensch W., Van de Walle C., Galazka Z., Albrecht M., Fornari R., Jena D. High-voltage field effect transistors with widebandgap β-Ga2O3 nanomembranes. Applied Physics Letters, 2014, vol. 104, no. 24, art. 4884096. doi: 10.1063/1.4884096
3. Lebedev A.A., Chelnokov V.E. Wide-gap semiconductors for high-power electronics. Semiconductors, 1999, vol. 33, no. 9, pp. 999–1001.
4. He H., Blanco M.A., Pandey R. Electronic and thermodynamic of β-Ga2O3. Applied Physics Letters, 2006, vol. 88, no. 26, art. 261904. doi: 10.1063/1.2218046
5. Oshima T., Okuno T., Fujita S. Ga2O3 thin films growth on c-plane sapphire substrates by molecular beam epitaxy for deep-ultraviolet photodetectors. Japanese Journal of Applied Physics, Part 1, 2007, vol. 46, no. 11, pp. 7217–7220. doi: 10.1143/JJAP.46.7217
6. Yuzova V.A., Shelovanova G.N. Aktual'nye Problemy Sovremennoi Elektroniki i Nanoelektroniki: Posobie po Kursovoi Rabote [Actual Problems of Modern Electronics and Nanoelectronics: a Course Work Guide]. Krasnoyarsk, IPK SFU, 2009, 122 p.
7. Maslov V.N., Krymov V.M., Blashenkov M.N., Golovatenko A.A., Nikolaev V.I. β-Ga2O3 crystal growing from its own melt. Technical Physics Letters, 2014, vol. 40, no. 4, pp. 303–305. doi: 10.1134/S1063785014040075
8. Boyarskaya Yu.S. Deformirovanie Kristallov pri Ispytaniyakh na Mikrotverdost [Deformation of Crystals at Microhardness Tests]'. Kishinev, Shtiintsa Publ., 1972, 235 p.
9. Nikolaev V.I., Shpeizman V.V., Smirnov B.I. Determination of elastic moduli of GaN epitaxial layers by microindentation technique. Physics of the Solid State, 2000, vol. 42, no. 3, pp. 437–440.
10. Brinkevich D.N., Vabishchevich N.V., Vabishchevich S.A. Fiziko-mekhanicheskie svoistva epitaksial'nykh sloev fosfida galliya [Physical and mechanical properties of epitaxial layers of gallium phosphide]. Vestnik Polotskogo Gosudarstvennogo Universiteta. Seriya C: Fundamental'nye Nauki, 2010, no. 9, pp. 92–97.
This work is licensed under a
Creative Commons Attribution-NonCommercial 4.0 International License