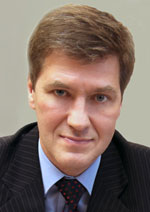 Nikiforov
Vladimir O.
D.Sc., Prof.
DEEP-WATER THREE-AXIS TILT SENSORS APPLICATION IN SOLVING GEOTECHNICAL MONITORING TASKS
T. V. Paderina, V. Yakovlev, Y. Gordeev
Read the full article

';
Abstract
The article deals with application results of the first national measurement system with deep-water three-axis tilt sensors (DTT) based on micromechanical accelerometers (MMA) in the solution of highlands geotechnical monitoring on Olympic speedway Adler - Krasnaya Polyana. It is shown that this system provides on-line monitoring of horizontal displacement array of the ground during a long period of time, thereby providing the timely warning of possible adverse situations during construction and operation. The achieved accuracy level equal to a few millimeters and relatively low cost makes this system more attractive, especially in the continuous monitoring organization of lengthy geological objects.
Keywords:
geotechnical monitoring, micromechanical accelerometer, three-coordinate tilt sensor
This work is licensed under a
Creative Commons Attribution-NonCommercial 4.0 International License