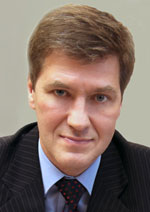 Nikiforov
Vladimir O.
D.Sc., Prof.
AMINO ACIDS IDENTIFICATION IN THE HUMAN SKIN BY SPECTRA APPLICATION OF 0,05-1,2 THZ RANGE
O. A. Smolyanskaya, A. V. Kapralova, N. S. Balbekin, I. R. Romanov, I. V. Prozheev, E. A. Strepitov, I. Y. Prosanov, A. A. Ezerskaya, M. V. Tsurkan
Read the full article

';
Abstract
Spectra of human skin and tableted preparations of amino acids in 0,05 1,2 THz range are obtained by terahertz spectroscopy method with time resolution. Comparison of the amino acids spectral lines is made for their identification in the skin. It is shown that the following amino acids are the most clearly visible in the skin spectrum: tryptophan, cysteine, alanine, glycine, phenylalanine and histidine. Terahertz spectral lines of the mentioned amino acids are associated with molecules oscillating modes, caused by chemical reactions, hydration processes and molecules conformal changes in the human skin. Determination of amino acids spectral lines and other specific molecules, involved in the metabolic processes of the skin, is necessary for the development of terahertz diagnostic tool with maximum sensitivity and selectivity.
Keywords:
terahertz spectroscopy, diagnostics, human skin, amino acids
This work is licensed under a
Creative Commons Attribution-NonCommercial 4.0 International License