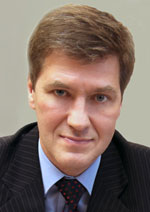 Nikiforov
Vladimir O.
D.Sc., Prof.
INFLUENCE ANALYSIS OF LOW INTENSITY TERAHERTZ RADIATION ON LYMPHOCYTES EARLY ACTIVATION MARKERS
M. V. Tsurkan, I. Kudryavtsev, M. Serebryakova, A. Trulyov, A. Snegova, O. A. Smolyanskaya, A. Polevshchikov, N. S. Balbekin
Read the full article

';
Abstract
There is the evidence of terahertz radiation effect on blood elements in literature. This study is focused on determining the level of cell surface markers for lymphocyte activation when exposed to terahertz broadband in the range of 0,05-1,2 THz. In the course of the study, two antigens - CD38 and CD69 were selected - increase of the expression level of these markers gives the possibility to evaluate the functional state of the cells in culture conditions in vitro. Obtained data indicate that terahertz radiation with power density equal to 9.55, 0.63 and 0.03 mW/cm2 in 1 minute does not alter the functional activity of lymphocytes.
Keywords:
terahertz (THz) radiation, medicine, blood, lymphocytes, activation markers
This work is licensed under a
Creative Commons Attribution-NonCommercial 4.0 International License