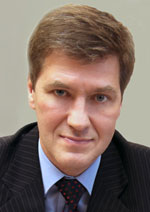 Nikiforov
Vladimir O.
D.Sc., Prof.
METHOD FOR DYNAMIC DATA PROCESSING IN THE SPECTRAL OPTICAL COHERENT TOMOGRAPHY WITH COMPENSATION OF DISPERSION INFLUENCE
M. A. Volynsky, I. P. Gurov
Read the full article

';
Abstract
During signals formation in spectral optical coherent tomography, spectral interference fringes suffer the frequency modulation because of the frequency dependence on the wavelength due to a medium dispersion influence, which leads to the spectrum broadening of the detected signal and decrease of spectral interferometer resolution. The paper deals with a method of dynamic data processing in spectral interference based on the discrete linear Kalman filtering algorithm with dispersion influence compensation in media for depth resolution in investigating of optical-inhomogeneous partially-transparent objects. The algorithm is an identification of parameters (amplitude and initial phase) of harmonic components of interference signal with a fixed set of frequencies by linear discrete Kalman filter. Information application about the initial phase gives the possibility of dispersion influence compensation and avoiding unwanted artifacts, which improves resolution of spectral optical coherent tomography. Processing results of 1D and 2D optical coherent tomography signals on an investigation example of randomly inhomogeneous scattering media in biomedicine are presented.
Keywords:
spectral interferometry, optical coherent tomography, compensation of dispersion in media, Fourier transform, Kalman filter
This work is licensed under a
Creative Commons Attribution-NonCommercial 4.0 International License