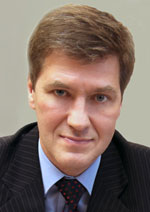 Nikiforov
Vladimir O.
D.Sc., Prof.
NEW APPROACH FOR TEMPERATURE MEASUREMENTS OF FIELD PROGRAMMABLE GATE ARRAYS LOCAL AREA BASED ON THE MONTE-CARLO METHOD
P. V. Kustarev, S. V. Bykovsky
Read the full article

';
Abstract
The paper deals with the digital circuits for temperature control of VLSI-chips. The basic approach is temperature measurement on the basis of a typical logic gate delay. Various alternatives of gate delay measurement are applied. Advantages and limitation of sensors on the base of ring oscillators are presented: high accuracy and speed of measurement, but small localization and the bad repeatability of parameters at Field Programmable Gate Array implementation, high working frequencies, power consumption and level of an electromagnetic emission. It is offered to use the alternative circuit of the measuring unit implementing the statistical Monte-Carlo method. The circuit main principle is selection of delay areas of repetitive pulses fronts at their propagation through a logical gate and counting a share of casual testing pulses hits in these areas relative to all time of measurement. The propagation delay of a logical gate is converted in temperature value in such a way. Research results of the offered circuit have confirmed the efficiency of gate propagation delays measurement circuits by the method of Monte-Carlo for determination of a chip temperature, including local overheating near power-intensive functional blocks: processors, memory blocks and others. The offered circuit has shown the accuracy of temperature measurements not worse than the circuit based on ring oscillator - at 1,5K level, but has smaller complexity and approximately 25 % less square occupied by a chip. Important singularity is the possibility of transfer and cloning of the measuring block in various points of a chip without requalification necessity that provides simplicity of its application in Field Programmable Gate Array based systems.
Keywords:
Time to Digital Converter, TDC, VLSI, FPGA, SoC, Field Programmable Gate Array, temperature sensor, ring oscillator
This work is licensed under a
Creative Commons Attribution-NonCommercial 4.0 International License