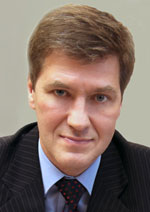 Nikiforov
Vladimir O.
D.Sc., Prof.
THE INFLUENCE OF YLP - LASER RADIATION ON THE CURRENT-VOLTAGE CHARACTERISTICS OF THE SILICON-SILICON DIOXIDE SYSTEM
R. Khalestkiy, Q. T. Pham
Read the full article

';
Abstract
The paper presents the results of the experiment concerning irradiation of thermally oxidized silicon wafer by pulsed fiber YLP-laser with 1.06 microns wavelength and different power density. It is shown that defects appear in the SiO2 film under laser irradiation responsible for the increase of a negative charge in the dielectric and the conductivity of SiO2 for certain values of the shutter bias voltage.
Keywords:
structure defect, laser irradiation, negative charge, conductivity of silicon dioxide
This work is licensed under a
Creative Commons Attribution-NonCommercial 4.0 International License