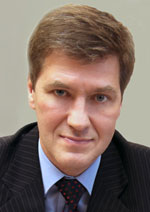 Nikiforov
Vladimir O.
D.Sc., Prof.
Ambrozevich Sergey A.
Work place: Lebedev Physical Institute of the Russian Academy of Sciences, Moscow, 119991, Russian Federation; Bauman Moscow State Technical University, Moscow, 105005, Russian Federation
Post: Senior Researcher
Degree: PhD (Physics & Mathematics)
E-mail: s.ambrozevich@mail.ru
Scopus ID: 12789274600
ORCID: 0000-0002-3906-0735

Osadchenko A. V., Vashchenko A. A., Zakharchuk I. A., Daibagya D. S., Ambrozevich S. A., Volodin N. Y., Чепцов Д. А., Dolotov S. M., Traven V. F., Avramenko A. I., Семенова С. Л., Selyukov A. S.
Organic light-emitting diodes with new dyes based on coumarin
The article was published in issue 6, volume 22, 2022