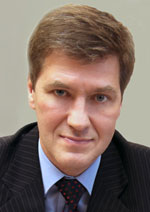 Nikiforov
Vladimir O.
D.Sc., Prof.
Polevshchikov Alexander
Work place: Far Eastern Federal University; Institute of Experimental Medicine of the NorthWest Branch of the Russian Academy of Medical Sciences (IEM NWB RAMS)
Post: Department Head; leading scientific researcher
Degree: D.Sc.
E-mail: Alexpol512@yandex.ru

Tsurkan M. V., Kudryavtsev I., Serebryakova M., Nesgovorova Y., Trulyov A., Nazarova I., Smolyanskaya O. A., Nazarov P., Polevshchikov A.
RADIATION INFLUENCE IN THE RANGE OF 0.05 ÷ 2 THZ ON MITOCHONDRIAL MEMBRANE POTENTIAL
The article was published in issue 4, volume 13, 2013