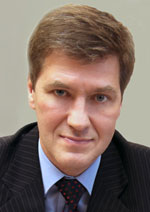 Nikiforov
Vladimir O.
D.Sc., Prof.
ALGORITHM FOR PARAMETRIC CONVERGENCE IMPROVEMENT OF THE SINUSOIDAL SIGNAL FREQUENCY BY CASCADE REDUCTION
S. V. Aranovskiy, A. A. Bobtsov, A. A. Vedyakov, S. A. Kolyubin, A. A. Pyrkin
Read the full article

';
Abstract
The estimation problem for unknown frequency in a sinusoidal signal corrupted by noise is considered. The algorithm of parametric convergence improvement for the unknown frequency estimation to the true value is proposed on the base of cascade reduction method.
Keywords:
sinusoidal signal, reduction,identification, disturbances
This work is licensed under a
Creative Commons Attribution-NonCommercial 4.0 International License