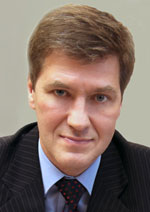 Nikiforov
Vladimir O.
D.Sc., Prof.
TERAHERTZ TRANSMISSION AND REFLECTION SPECTRA OF CATARACT MODIFIED HUMAN CRYSTALLINE LENS
A. A. Ezerskaya, O. A. Smolyanskaya, S. Parakhuda, Y. Grachyov, A. Goncharenko
Read the full article

';
Abstract
Correlation between the optical density of the crystalline lens nucleus in terahertz range with its density,
determined according to the L. Buratto classification was revealed. Lens fibers infiltration caused by senile
cataract increases the lens reflectivity in the THz range. The temporal structure of reflected THz signals allows
determining the spatial distribution of crystalline lens density.
Keywords:
terahertz spectroscopy, terahertz tomography, ophthalmology, cataract diagnosis.
This work is licensed under a
Creative Commons Attribution-NonCommercial 4.0 International License